I'm supposed to be taking a break from real knitting, but here's what's doing:

Ito Maki Pincushions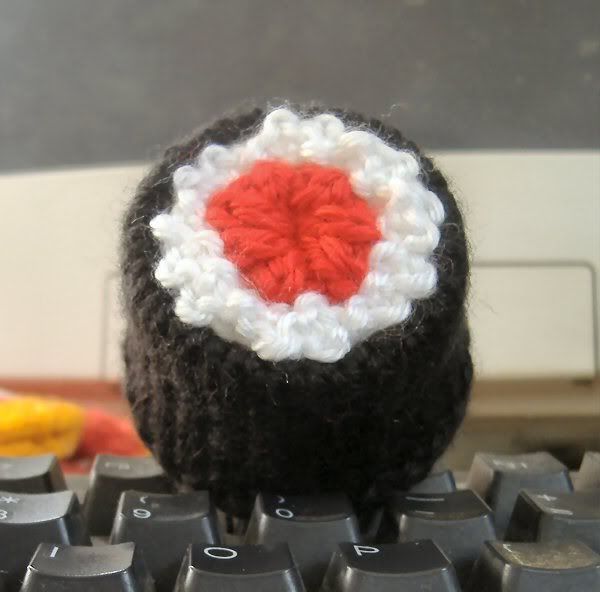 Here's a first look at the Ito Maki Pincushion that I'm designing. I used one of those English-Japanese dictionaries to find the Japanese Word for yarn and "Ito" came up, so my appologies if it is in fact the wrong word. This is the Tuna Roll version. I have a vegetable roll with brown rice on the needles right now and I'm also planning a Salmon Roll and California Roll version as well. It's knit using Carron Simply Soft acrylic yarn.
Quick and Dirty Stich and Row Markers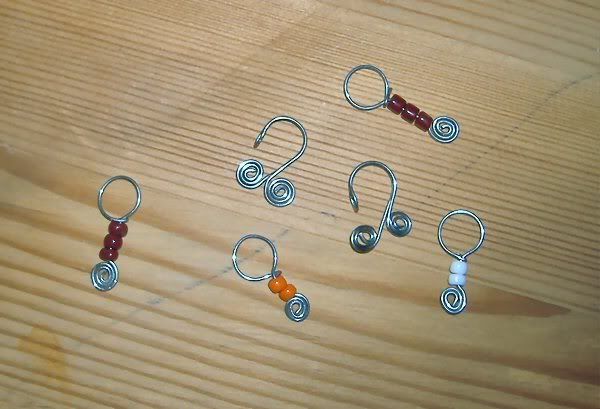 I broke out the pliers and beads the other day to make myself some row and stitch markers. Usually, I just use cut up straws (an idea I got from DIY Network's Knitty Gritty), but my last black straw is almost gone and I like to have a couple of different colors to mark the begining and midway-point on my knitting. I also hate using a straw segment to mark a row and then have to cut it when I'm finished.
I didn't have any head pins, so I just made little spirals to hold the beads in place. I really like the way the row markers came out - it's a long piece of wire bent in half and then formed into to the hook with the ends of the wire bent into spirals. I flirted with making ones that looked more like fish-hooks, but I was afraid the wire would snag my yarn. It was alot of fun making them and my friend K gave me some really pretty beads to make some more.
---
I'm really itching to start a big project. I have some yarn that I recycled from a Good Will sweater that is destined to become a raglan sweater for Michael, but I really don't like the color so I'm going to overdye it. the problem is that it's about two pounds of worsted-weight yarn and I don't have a pot big enough to fit it all in. next weekend I'm going to pick up a cheap corn pot or the like so I can dye it all in one go and be assured that the colors will match.
Since the cold weather has already set in, I also have to get some knitting done for myself. I have one of a pair of fingerless gloves done so I have to get cracking on its mate. I also have a poncho half-done for myself that has to get dug out from the in-progress no-man's land so I can keep warm without resorting to wearing two sweaters and a cardigan everytime I go out.
On a non-knitting front, I'm felting a piece of wool in my washer right now to make Michael a winter coat/poncho. I have a nice piece of navy micro-fleece that I'm going to use for the outer layer and sandwich the wool in between that and a lining fabric (most likely muslin). I'm planning on knitting a neckband and cufs for it as well. The reason the wool isn't going to be on the outside is that it's magenta and I think I'd be really hard presseed to make that mannish in any way.
Cross-Posted on Knitty Keen