With pictures no less!

Here's what's been doing the past few days.

I'm still working on the scarf from my $25 hank of bison hair yarn. It's fingering weight and I'm knitting it in a moss stitch using size 6 needles, I've been working a few rows here and there and it's a good 18" long by now - just another 4' to go. The woman I bought it from (and the label instructions)said it's supposed to fluff up like mohair once I put it in the washing machine for a few minutes and then in the dryer for a few minutes more. This is my "knitting in the semi-darkness while I put the boy to sleep project," if the project I just finished is a guide for how long that takes, it will be ready for spring of 2007.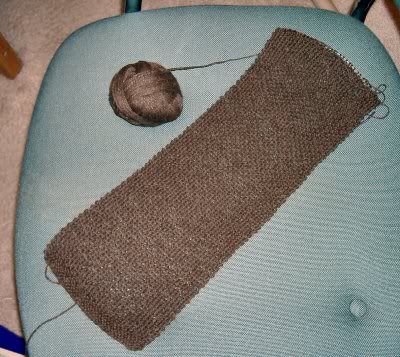 I tried a new dye using Wilton past food coloring (Christmas Red) and a new method, my crock pot. The first batch of yarn that I did over the summer I hand painted using Kool Aid. While the yarn was still in the pot, I was dissapointed because it looked to be a uniform color, but when I took it out - WOW!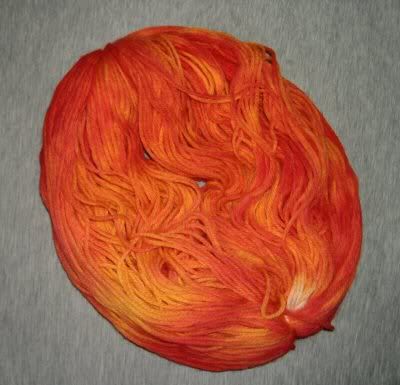 One half of the skein seems to be a red/orange with a few hints of yellow or the natural cream variagation, the other half is more yellow/organge with a few hints of red. Here's a swatch I knitted up from the red/orange end.



Drum roll please....I have finally completed a knitting project FOR MYSELF! This is almost unheard of for any craft. John got me a gift card for AC Moore four years ago and I got this beautiful yarn. I ried to turn it into a scarf at least a half-a-dozen times since then. Fourteen months ago, I started knitting myself a scarf - the first real knitting project I ever started. Well, it's finally done - the ends are woven in and everything. It's an acrylic/wool blend knit in moss stitch with a multitude of mistakes, but no one is ever going to get close enough to find them.



Last but not least - protecting my needles from a marauding 18 month-old: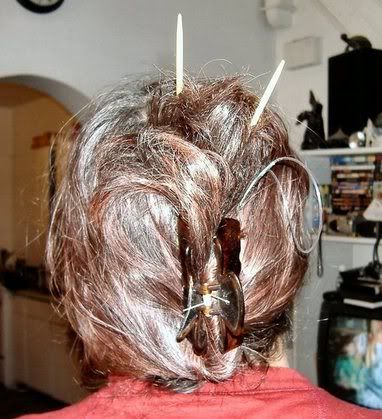 (yes, that's a circular on the side there)