With lots of pictures, no less....


From the Dye Pot
Louet Gems Opal, Cream1/2 tsp Red paste coloring, 1/2 tsp Orange paste coloring, 1 c vinegarCrock-Pot
I went to one of my LYS's to pick up some sock yarn. I wanted something bright but in a solid color. the Louet gems yarns looked great but none of the colors sung to me so I picked up a skein of the Opal sport-weight in cream and decided to dye it myself. This was a first for me, superwash wool and mixing colors. I am very happy with the results. Next time I decide to do this, I am going to have them ball the skein for me and then wind it onto my niddy-noddy myself since the skein was tied a bit tightly and I ended up with some small areas that didn't take the dye.

I bought three balls of this color of Debbie Bliss Soho (its a variagted with purples and a very bright pink) on sale from my favorite LYS for a felting project. The colors aren't really me and with a shocking amount of selfishness, I decided that I was going to make my first felted project for me and I wanted it to be a color that I liked. Into the crock pot it went with some fisherman's and 1.5 tsp of Wilton's Copper (one of my favorite colors). Several hours later, I got this...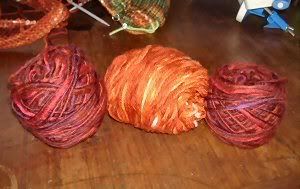 These are so my colors - the purple and pink still sparkle through in some places but there is a lovely burnt orange glow to it. here it is on the needles...
I cast-on 126 stitches on my 29" size 10 circulars. I'm doing wide bands of stockinette in the fisherman's and then two rows of the Ball Band Pattern from the Mason Dixon book. Since I know the yarns will felt at different rates, I should end up with a neat horizontal corregated effect. I've been wanting a felted bag of some sort for ages so I'm really looking forward to this project being completed.
On the needles
This is the first of my pair of knee socks in a wonderfully hideous yarn I bought on a whim from one of my LYS's. It's an acrylic/nylon blend somewhere between sport and DK weight and I'm knitting it using magic loop on size 4 circulars. The first sock is done and I'm about half way through the instep on it's mate. I did overdo the calf increases so while it looks fantastic on my huge legs, it's pooling around my ankles after about a half a block. I'll be heading out to AC Moore's later this week to pick up some elastic thread to fix it.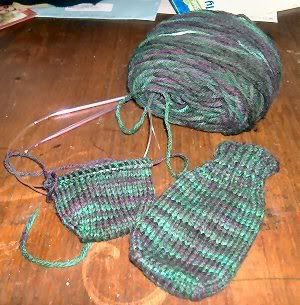 These are a pair of thumbless mitts I'm knitting up for my friend K's son to match his hat. I love this colorway. I'm hoping Santa will be bringing me a big stainless steel pot so I can dye up enough yarn at once for a sweater in this color. I'll get the pattern written up later this week and posted over on
Knitty Keen
. I knit them top down at a pretty tight gauge for worsted - 5 sts/inch, but they should be all the warmer for it.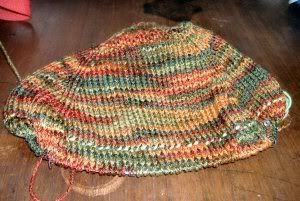 This is Michael's top-down raglan tunic that I've been battling for the past month. It has a k2p2 ribbed funnel neck with button closures on the side with a k3p1 rib in the body. After frogging it at least four times, I think it's going well at this point. I decided that I was going to do the button holes as a separate facing and I finally worked out how the k3p1 rib would work with the should increases. It's bugging me a bit, but I put in a purl band to separate the neck ribbing from the body ribbing and I should have knit a round before and after to give it extra definition. It doesn't look bad, but it's not a crisp as it could be. At this point thought I just have to let it go.
I only have a few more rounds to get to the bottom of the arm holes. I'm going to steal the technique for doing the afterthought heel once I get there so I can just continue to knit the body without dealing with a provisional cast-on for the under-arms. I'm still not sure if I'm going to bother with underarm gussets. The ease on this is pretty generous and the arm holes are very deep so I think they may be overkill. When I'm ready I think I'm going to transfer it to waste yarn and try it on him to see if that extra the gussets provide is necessary.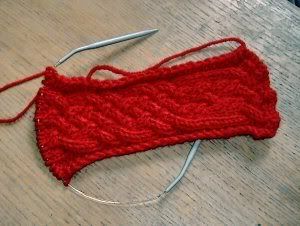 This is my first real foray into cables. I'm going to be using it for a horizontal band for a hat for my mom for Christmas. I love celtic knotwork and once you get into the swing of it the cables go very quickly. It will be a 6 stranded braid alternating between all six strands in the braid and then only four strands with the extras framing it (the patter on the left-side of the swatch). I'm knitting it up in Lion Brand Wool Ease on size 8 needles.
This is getting long and I need to eat lunch so I'll leave you with this...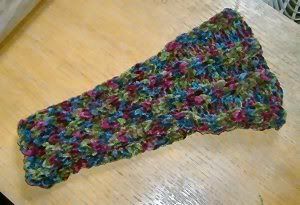 This is my take on
Panta
from Drops Design. I altered the pattern a bit to accomodate the chunky yarn. I'll post the pattern I used later tonight or tomorrow.
TTFN!