Here's what's been doing in the land of knitting (a.k.a. the land of avoidance or the land of trying not to think about smoking - which has unfortunately revoked my visa but I have the state department working on that).


Linen Stitch Hand Towel
This has been on the needles for at least two months, maybe longer. It's a simple linen-stitch towel knit from Sugar and Cream cotton yarn with an I-cord loop. I love the way the variagated yarn colors pooled on this. Here's a detail of the stitching: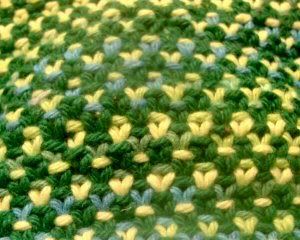 I will get the pattern written up soon and posted over on
Knitty Keen
, probably this weekend.
Ball Band Mop Covers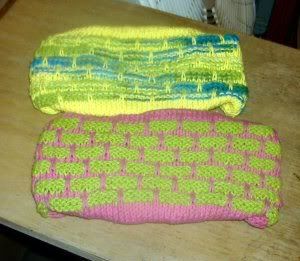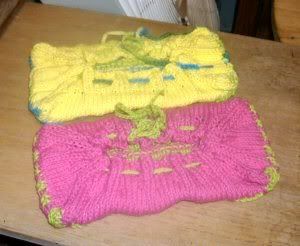 I finally managed to make a few of these, after finishing one and frogging it all in the same night back in
September
. You can check out the pattern yourself
here
. Here are the changes I made from the original pattern:
I cast-on 49 sts, adding a 2 st garter border on either side
I picked up 25 sts on each side and rearranged the rest of the stitches using markers so it was 47-27-47-27
I worked two rounds in stockinette before begining the decreases.
Worked decreases until there were 35-15-35-15 sts left
Worked [K2, P2] rib for three rounds, then [K2, P2tog, yo] for a round, then 3 more rounds of [K2, P2] ribbing.
Contrary to what I said back in September, I did end up working it on Size 8 needles. I'll be using them tonight so I'll give an update on how my own modifications worked.
Cable Hat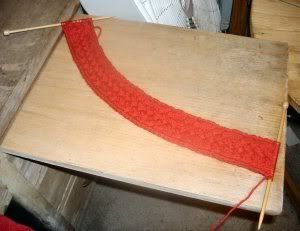 The whole band waiting to be kitchnered.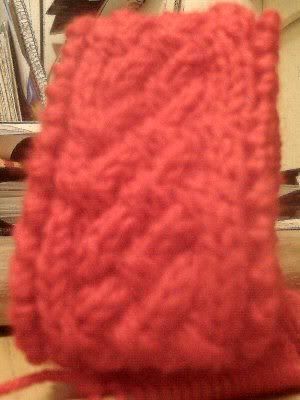 Rather fuzzy cable detail
Truth be told, the hat is actually finished, but I'm not happy with it. The cable looks bad where it was kitchnered - which means that nobody else but me would really notice it. On top of the cable I added a purl band, a moss stitch band, a purl band, and then a flat top using decreases in a spiral pattern (I love the way this looks). Below the cable, I have a purl band, a moss stitch band, a purl band and just over an inch of K1P1 rib. The ribbing has to be reworked on smaller needles - it's just too loose. The hat as a whole looks pretty good, but becsaue the cable band has stuff above and below it, it does not seem to be the main focus of the hat. I'm going to get some other opinions before I go in and frog.
The GameBoy beckons....