...and Jenn is great, uh hun!

It's been an age, but here is the craft update you've all been waiting for. Lo and behold - it actually includes a finished object!

Clapotis


What's done, being watched over by the Alien Queen plush.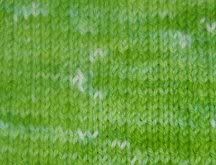 Detail

I've been working on this for the past few weeks here and there. I'm almost done the end of the paralellagram and in another couple of rows, I get to start dropping stitches. It's being knit from Patons Merino yarn that I dyed with Leaf Green paste food coloring (~300g yarn, 1 tsp. food coloring, 1 c vinegar). You can take a look at the pattern I'm using here.

---
Spinning
Slowly but surely, this is coming along. Here's what's doing...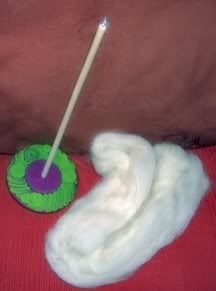 My quick and dirty bottom wholr spindle and some corriadale cross roving that I got from
The Lamb's Wool
in Lansdale.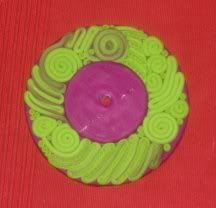 whorl detail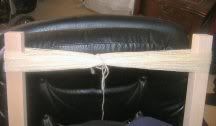 This is some plied yarn that I spun on Sunday and Monday (when I shuld have been working on the newsletter). It's about 48 yards and probably worsted weight. It's really underspun in several places, so that's something to work on. I'm thinking of dying it this afternoon to set the twist, I have a burgundy that I've been wanting to try out.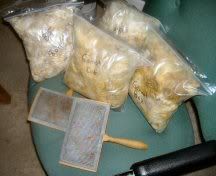 As if spinning the yarn wasn't enough, I had to go out and get fleece and cards to boot. I went to
Jubili Beads and Yarns
in Jersey thinking I was getting rovings for super cheap - but found out it was unprocessed fleece. I bought two pounds for good measure and picked up the carding paddles on ebay a few weeks ago. Once I get some stuff finished and the yarn stash tamed, I'm going to scour, dye, and card them. I am really psyched about what I can do mixing colors on the cards. I also picked up a copy of
Spin It
which has some very nice pictures and I ordered a copy of
Spinning in the Old Way
which looks like a great resource as well.
---
Pot Holder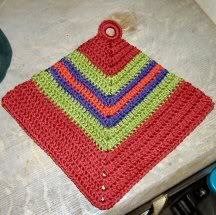 Since this has been given away, I can now post a picture. It's a crochet pattern that I adapted for worsted weight yarn from
this
vintage pattern. They work up very fast and make a great gift.
---
Frogging
I picked up a Gap lambswool sweater from Good Will last month and this is the yarn it's yeilded. I really don't like the color (pale mustard) so I'm going to overdye it brown. With a bit of luck, it will become an Aran for Michael.
---
The stash is still being organized and currently living is three different rooms of my house. I really need to get to work on the blankets that I'm making for Project Linus, and hope to have them ready to go in the next two weeks. The poncho is still sitting, waiting to be fixed or frogged - I still haven't decided. Next weekend is the Maryland Sheep and Wool Festival and the Koigu mill ends are calling to me...
Happy crafting all!