...unless I have 5 million projects going at once.

The pattern that I'm planning on submitting to knitty is almost ready to give to my test knitters - I just have to finish making it pretty and turn it into a PDF. I am very nervous about it. I feel it has a good chance of being accepted, but I'm not sure if I can be ready for the potential traffic that this is going to cause if it does get accepted. There's still a decent amount of work that has to be done on the Knitty Keen site(s) not to mention actually getting a few freebie patterns written up and posted. They are written, so to speak, and there are finished objects to photograph - it's just a matter of finding the time I need to put them together. Michael will let me knit during the day, no problem. He will not let me use the computer during his waking hours, which is a big problem if I actually want to offer patterns. I'm working on finding a more happy medium, but it's difficult.

Now onto other things....

I started knitting up a bootie in Lorna's Laces Shepherd Sock Yarn in the flame colorway and I have to say I'm not feeling the love. I knitted a bootie up in the Cherry Tree Hill Super Sock Yarn and it's great. It knits up nicely at 7 stitches per inch on my US Size 2/2.75mm needles. Very springy and a joy to work with. (An aside - I still can't figure out what colorway I actually have of the stuff; I think I'm going to have to go back to Sophie's Yarns and buy some more so I can find out what color it is.) The Lorna's Laces is very smooth and tightly spun - it's more like knitting with cotton than wool. I also found that I don't like it at 8st/inch (how it was knitting up on my size 2's) - it seemed way too loose, so frogged it was. This got my mind rolling and I came up with this...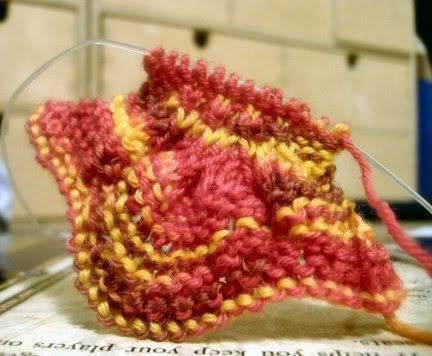 This is the tail of what will soon be a small fish toy that will be available in the not too distant future. I've been wanting to do some toy designing for a while and what better way to start off than with a gorgeous, handpainted yarn? I really love the colors of the Lorna's Laces so I'm going to look into trying out the Shepherd Sport for my next sock project.
Cross Posted on Knitty Keen