Not a snappy title, but it will do...

Here's what's doing:

Knitty Submission:

I'm half-way though the second large bootie model and I finished one of the small bootie models. I'm also 2/3 way though the second large bootie and have yet to get the second small bootie on the needles. On the pattern front, I've gotten feed-back from a few of my testers and know what changes I am going to make to the pattern, I just have to take the time to do it. I'll probably work on it tomorrow morning - I'm thinking of escaping to Starbucks with the laptop for a few hours before John goes into town to get his comics. I have a great idea for my picture and it's actually in my back yard. I'll also be scouting out some locations in town for potential pics as well but I think the backyard one will work. Lastly, I have to get someone to take a picture of me for my head shot.

New dyeing!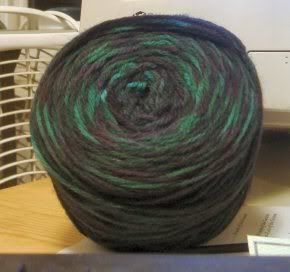 3/4 tsp Wilton's Black Paste Food Coloring, 1 c vinegar, ~4oz. Lion Brand Fisherman's Wool
Cooked in Crock Pot
Almost everything else is on hold, but here's a quick run-down on where we are:
Fish toy: finished the second tail fin, now have to do two more and then decide if I'm going to do it in the round or flat. I'm thinking of offering the pattern in both as well as multiple gauges.
Ball band mop cover: I think I'm going to go ahead and do it on my size 6's - I plan to add a few garter stitches on either side(allowing me to slip the first stitch on each row and create a nice loop for picking up when I switch to knitting in the round) and I'll add one more purl band.
Since I was unable to sell my stash yarn (that I had no business buying in the first place) on MDC, I've decided to turn it into soakers for the craft show I'm doing at the end of October. Oh, I'm doing a craft show at the end of October. Once I get through the Knitty submission, I'll begin the mad knitting for that. I'm going to do some longies (out of the Rowan Kid Classic I was trying to sell), some miscellaneous baby knitting also out of the Rowan, some soakers out of hand-dyed stash yarn, and assorted dishcloths and hand towels out of cotton.
I need to get my freebie patterns written for
Knitty Keen
and some business cards made up as well since I'm really going to try and push the business.
Last but not least, I'm hoping to spend some quality time crunching HTML and redo the skin for Discombobulation Notes and finish the skin for Knitty Keen.
On the Michael front I've been in touch with his service coordinator from EI. Many things are rolling. We've gotten rid of his Special Instructor and it looks like he'll be able to pick up with the new one soon, so there won't be a huge lapse in services. We're still on the waiting list for speech, and it looks like we're going to get OT increased to weekly. The transition from EI to the school district also starts and I'm still not sure what that entails, but I know I'll be meeting with them in the next few weeks.
After eight weeks of being milk-free, we started a dairy challenge yesterday. I didn't see any real change in behavior from him when we removed it and I'm not seeing anything discernable now that we've added it back in. I flirt every once and a while with going gluten-free, but I don't think it will make a difference and I know I'm not ready for it myself. I'm sure some mild gut issues are there, but I'm not willing to jump through restrictive diet and supplementation hoops to find out what they are.