When I first saw this pattern I thought it was fantastic. Panta was all the rage on one of my message boards but when I made my first one it looked awful on me. I really wanted something that would cover the top of my head but not mess with my hair being up in the back. After reading through the pattern I was afraid of how big it would be if I worked it on US size 8 (5mm) needles. The first couple I did I used a US Size 6 (4mm) needle and it seems to fit everyone's head perfectly.

In the midst of my Christmas knitting frenzy, I went to visit some yarn at one of my LYS's and splurged on a skein of Manos del Uraguay yarn that I have loved ever since I first saw it. The Manos is more on the heavy worsted size and even working it on size 6 needles as the pattern was written, I was afraid it was going to be too big, so I tried it on size 8 with a cast-on of 100 sts. It was perfect. Here's a pic of me modeling it...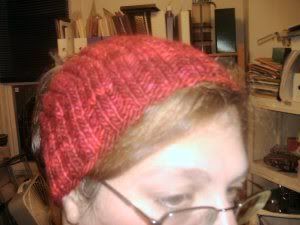 Here are the changes I made to the original pattern:
CO 100 sts
When it comes to work the first short row, work it as written, this becomes the button hole. All other short rows are wrapped and double-wrapped as if you were working a short row heel/toe on a pair of socks. When you approach a short row turn, k1, yf, sl 1 purl-wise, yb, sl st back to left needle, turn work. This is just my own personal preference as I can't stand to have those holes even if they aren't noticeable in the finished product *I* would know they were there.
Work the pattern as written until there are 40 sts between the short row gaps (and 30 sts to either side), and then start the second half of the pattern. Complete the pattern as written.
For this child-sized one I CO 80 stitches using US size 8 (5mm) needles with the black (Carron Simply Soft), then changed to the novelty yarn. Working the pattern as written, I worked the pattern using the novelty yarn for about an inch, then changed back to the black (I did not break the novelty yarn). I worked the pattern until there were 36 sts between the short row gaps (and 22 sts to either side). I continued working the pattern as written until I came to novelty yarn. I worked the rest of the pattern in the novelty yarn and then bound off in the black. To make the button hole more accessible, I single-crocheted around the outside edge.