Here's what's been doing on the crafty front, with lots of pictures to use up valuable bandwidth.

---
The bears...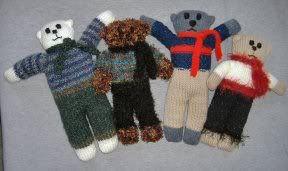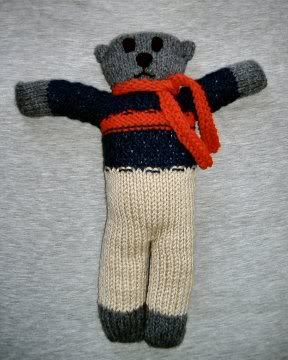 This was the first one I started. It was knitted using worsted-weight acrylic yarn and size 8 needles.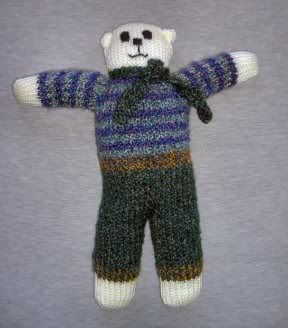 This was the second bear I started. It was knitted using a combination of worsted weight acrylic and Lino Brand Homespun on size 8 needles.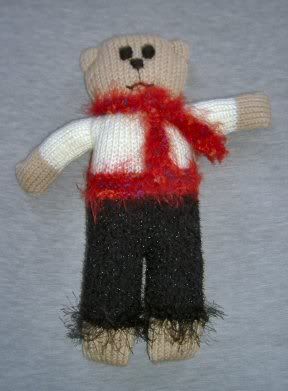 Bear number three. This was knitted using worsted-weight acrylic, Lion Brand Fun Fur, and two Moda Dea novelty yarns on size 6 needles.
Bear number four. Knitted using Patton's Cha Cha and Bernat's Boa yarns on size 8 needles.
They were all fun to sew (maybe with the exception of the furry one - he was a bit of a pain). I gave them lots of hugs for the kids who will receive them. My friend has decided to make a day trip and drive them down to Virginia tomorrow. Travel well my friends!
---
Here's what I've been knitting for myself...
It will be a poncho, knitted out of Lion Brand Woolease Chunky Yarn on my homemade needles (~size 13). It's about half done, but you may notice a slight pucker at the yarn join...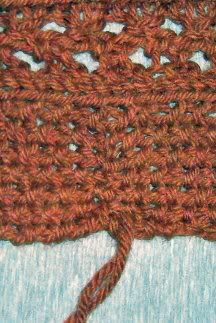 I screwed up and knit a row of stockinette in my moss stitch border and I only realized it when I laid it out to take the picture. How might this have escaped my attention for an entire hank of yarn? I only work on it while I'm putting Michael down for naps and bed. At best, I'm working on it in a dim room during the day with the shades drawn, at worst I'm knitting by the light of a 25 watt bulb. As soon as I can dig up my size J crochet hook, I'm going to ladder the stitches down and try to fix it. If that doesn't work, then I'm going to have to frog two weeks worth of work. Not pretty no matter how you look at it.
I dropped a decent amount of money at my local yarn shop this afternoon on a kit and some needles. The kit makes up a felted tiger lily which look pretty cool. I'm hoping to make these up to give as Christmas presents next year using the odds and ends of my hand-dyed yarns. I also got a pair of size 11 needles to use with the wool/silk/cashmere blend I picked up two weeks ago for a scarf. I have an idea of what I want to do with it, I just have to chart out the stitches.
I also have to really get to work on the blankets I'm making for
Project Linus
. My granny-square one is about 2/3's complete (barring weaving in the ends and sewing it together). The one that people have submitted squares for has a long way to go. A.C. Moore's ran all of their yarn 1/3 off last week so I picked up several skeins of Carron's Simply Soft in a bunch of neutral colors to make up the rest of the blanket. I'm also going to use a lot of the leftover yarn from the bears project and my stash to liven it up. I'm hoping to come out with something that looks like a cool crazy-quilt, but not too much like I just used odds and ends of yarn to throw it together. The size blanket they are in the most need of is of course the largest so I have a decent amount of work in front of me. Thankfully, there is no real deadline on this one, so I can take the next month or so to get it done. I want to knit myself an Aran sweater for next year and this will give me experience in knitting and designing cables.
Hopefully the boy will cooperate and sleep well tonight. I had a glass and a half of wine last night and four hours worth of sleep. Cranky toddler, mini hangover (I'm a lightweight), and no sleep do not make for a happy mom. John is in there now, but I'm pretty sure I'm going to have to take over soon.
Happy crafting and give someone you love a big hug to let them know!