I am posting this in Starbucks - wooohooo!!!! I appologise that the pictures aren't the best, I haven't installed Paint Shop on this machine yet and the free imaging software that came with leaves a lot to be desired - aparently it's too much to expect a sharpen feature.

Dream Swatch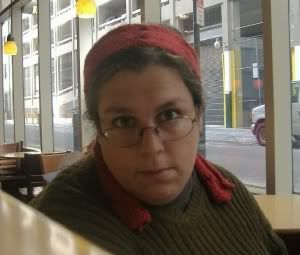 Dream Swatch scarf
Cottonade in Lipstick
US Size 10 Needles
Altered pattern so there were only 3 repeats
Silky Sock Socks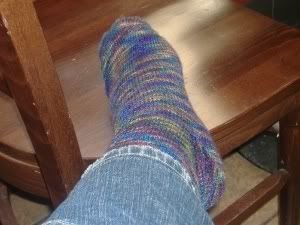 Universal Toe-up Sock
Great Adirondack Silky Sock, Serengetti
US size 1 and 0 Needles
Altered pattern to use a Turkish Cast-on for the toe

Nursing Pads
Wool Nursing Pad
Worsted-weight Silk/Cashmere blend
US Size 6 needles
Altered pattern to make all kf&b increases into M1L increases
Cable Band for Quinn bag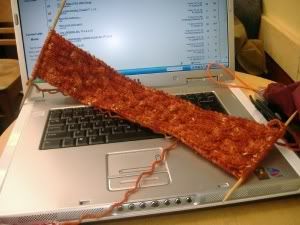 Horizontal Cable Band for Quinn Bag, MDC KAL
hand dyed Lions Brand Fisherman's Wool
US Size 8 Needles
I'm still working on the design for this, when I am finished I will post links to a complete PDF
...and last but not least...
Frogs in My Pocket
(or on my coffe cup to be more exact)
This will be a pattern available for purchase on Knitty Keen in the not too distant future.
Of course, I forgot the power source, so I have to cut this short so I can get some gaming in before my battery dies. Thanks for looking!!!